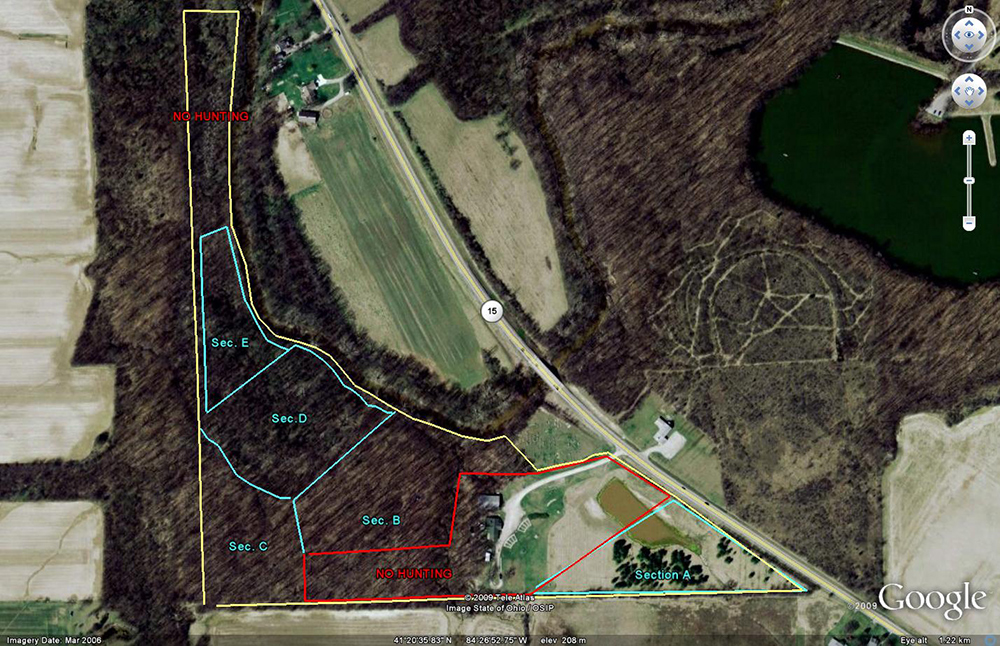 Defiance Area Fish and Game\ Hunting Section Descriptions
Property Lines
The yellow line outlines the entire property. In the woods, the entire north side boundary is Mud creek. The south boundary is the open field and fencing. On the west, the property is posted and for the most part, when you are in the bottom and go west and go (up hill) you are going off the property. Please respect our neighbors and stay off of any property you don't have written permission to be on. Members that disrespect the property lines will lose their good standing status; lose future permission to hunt and possibly membership to the Fish and Game. Plus you could be charged with trespassing.
Section A
This is the pines and pond area from the 100-yard shooting benches on the west to the tip of the property to the east and about ½ way across the pond and grass area.
1st No Hunting Area
This first no hunting section is from the 100-yard shooting bench on the east to about 200 yards into the woods on the west. You will see signs warning that you are entering an area behind the shooting range at the west of the No Hunting section. The creek marks the east edge of this area.
Section B
This is a top section starting at the no hunting on the south, into the bottom, eventually to the creek on the north, and another creek on the east toward the buildings.
Section C
This is the furthest west section along the south side. As you go north this section goes to the edge of the ravine.
Section D
This is the bottom from the hillside on the south to the creek on the north.
Section E
This section is where the bottom begins to narrow. As you move north you will be flanked on the east by the creek and the west by the neighbor property owner's hilltop. You will come to signs at the north line that say Keep Out. This is the 2nd No Hunting section.
2nd No Hunting Area
This section is off limits to hunting, deer pushing, and all shooting. This area is closed in part due to the personal property and homes close to this section. Also, we are trying to have a wildlife sanctuary to let animals feel safe and reproduce on the property. By giving a section for wildlife, it is our hope that all hunting will continue to be better in the future.